Tiny cookie, BIG taste
Made with an original recipe, these bite-sized bits are so delicious, we know you can't eat just one. The best part? They taste as if your own grandmother baked them herself.
TRY NOW!
Made fresh daily
We never compromise on quality, baking every order in small batches daily to ensure freshness. All the ingredients in our cookies can be found in your own pantry or refrigerator: real butter, real sugar, and hand cracked eggs. 
SEE INGREDIENTS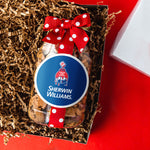 Corporate Gifting
Let us help you create a rewarding treat for your loyal clients and employees. It will be a gift they aren't soon to forget!
CONTACT US
"These are one of the best chocolate chip cookies. They taste like homemade chocolate chip cookies with a touch of love in every bite."

- Patriece

"You will stand there and eat these things until you are grabbing at the bottom of the jar."

- Evan

"Someone left these cookies at my house and I ate the whole jar! They're delicious and well worth the money!!"

- Steven